Flint Cottage, Treacle Lane, Rushden, Buntingford, Herts., SG9 0SL
Tel: 0044 (0)1763 288234
e-mail: sales@riodesigns.co.uk


Presents

from

4. Ink-Jet Fabric Sheets

Pack of 6 sheets - 8½" x 11"

4. Ink-Jet Fabric Sheets

Pack of 25 Sheets - 8½" x 11"

4. Ink-Jet Fabric Sheets
25 sheets x 11" x 17"
Nearly A3 size
also 25 sheets x 13 x19
bigger than A3

4. Ink-Jet Fabric Sheets

On a roll - 8½" x 120"

5. Premium Cotton Lawn
Pack of 6 sheets - 8½" x 11"
Packs of 25 sheets - Also in stock

6. Premium Cotton Satin
Pack of 6 sheets - 8½" x 11"
Packs of 25 sheets - Also in stock

3. Peel & Stick Sheets
Pack of 6 sheets - 8½" x 11"

7. Quilters Newsprint
100 sheets - 8½" x 11"
Non Smear paper sheets
for Foundatiion Piecing




3. Peel and Stick Fabric Sheets - For Ink jet/Bubble Jet Printers 100% Cotton (200 tpi) for printing sharp, photo Quality Images from your computer.
Perfect for covering anything you want with soft fabric, printed with your own images - e.g.. Mouse Mats, cups, etc.
PRICE - £19.85 for 6 sheets - 8½" x 11" - Inc. VAT @ 20%
4. InkJet Fabric Sheets Perfect for Photo Projects. Prepare image on your computer - either by scanning or using an existing design - print onto the fabric sheets via your printer -
allow ink to dry for 15 minutes - soak in room temperature water for 10 minutes - gently rinse - lay flat to dry -cut to size and sew into your project.
Pack contains 6 fabric sheets which are washable, colourfast and dry cleanable
PRICE - £22.95 for 6 sheets - 8½" x 11" - Inc. UK Postage & VAT @ 20%.
Packs of 25 - £79.95 - Inc. UK Postage & VAT @ 20%. -
also on a roll - 8.5" x 120" - price £39.95 inc. postage & Vat @20%
Packs of 25 x 11" x 17" (nearly A3) in stock priced at £139.95 per pack inc. Postage and VAT
Packs of 25 x 13"x 19" ( larger than A3) in stock and priced at £179.95 Inc. UK postage and VAT
5. InkJet Fabric Sheets - Premium Cotton Lawn - Smooth surface produces brilliant printed images of unmatchable clarity and sharpness.
The warm white fabric makes photo complexions glow - When only the best will do for for those special Wedding, anniversary and other memory projects.
PRICE - £24.95 for 6 sheets - 8½" x 11" - inc. UK Postage VAT @ 20%.
Packs of 25 - £89.95 - . Inc. UK Postage & VAT @ 20%
6. InkJet Fabric Sheets - Premium Cotton Satin - Special Satin Weave finish produces brilliant printed images of unmatchable clarity and sharpness.
For when your photo projects require a sturdy fabric with a bit more body than quilt weight.
PRICE - £24.95 for 6 sheets - 8½" x 11" - Inc. UK Postage & VAT @ 20%
Packs of 25 - £89.95 - Inc.UK Postage & VAT @ 20%.
7. Quilters Newsprint - Non-smear newsprint type paper that feeds through any type of Ink Jet or laser printer. Print quilting designs and foundation piecing patterns using any printer or copy machine.
Or use on a,light box to gtrace your favourite shapes and patterns from books and magazines.
PRICE - £13.95 for a pack of 100 sheets - 8½" x 11" - Inc. UK Postage and VAT @20%
---

Angie Padilla's


Play house with over 450 pieces to mix, match and make!

The block patterns and projects are installed into EQ5 or EQ6.
Use EQ5 software or EQ6 software to print the patterns. Use these projects with EQ5 or EQ6.

* The block patterns cannot be printed directly from the CD.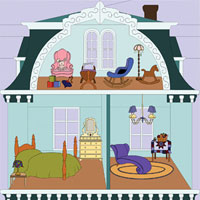 CD includes
• 15 dolls
• 32 quilts
• 127 blocks
• 282 motifs
• EQ5 and EQ6 projects
• My Dream House Block Library
• BONUS Children's Doll House project on PDF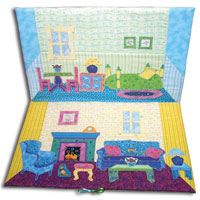 Using EQ5 or EQ6, modify Angie's prize winning designs for fused or needle-turn appliqué in any size you prefer.
Make Angie's quilts as designed. Create your own pillows, tote bags, wall hangings, and quilts using her motifs.
Quickly print Angie's designs onto pre-treated photo fabric, cut out, fuse and quilt.
So easy! You're the "interior designer" for your own Dream House projects.
Includes seasonal decorations — decorate your dream house for the holidays!
Contains blank houses to fill with furniture and accessories. Perfect for children/grandchildren projects.
Make furniture repositional by backing with flannel to "stick" to your house.


SALE Price :£10.00 - Inc. UK VAT @20%

Secure Ordering availabl