EQ8 Lessons for Beginners

EQ8 Lessons for Beginners

Step-by-Step Exercises for Learning EQ8 Software
This step-by-step lesson book is the best starter book for learning EQ8 software. The lessons are easy to follow and cover the basics of each of the three main worktables of EQ8. You will design quilts, draw blocks, import fabric scans, print patterns and calculate yardage estimates.

Even if you've owned earlier versions of EQ, this book will introduce new features, while refreshing and energizing your approach to quilt design.

This 128 page fully illustrated colour book has a convenient spiral binding that allows pages to rotate 360 degrees and lay flat

Step-by-Step Exercises for Learning EQ8 Software

Filled with illustrations, you'll have no trouble following the steps of this lesson book.

Pages: 128
Size: 8½" x 11"
Soft cover, spiral binding, full-color content

PRICE:
£24.95 inc. UK Postage
£28.35 Inc. European Postage


.

Chapter 1

Chapter 1 gives an in-depth look at each worktable.

Learn how to name projects and see the contents of your Project Sketchbook.

Learn to use the Home screen and how to find help

.
On the Quilt Worktable

Select quilt layouts

Make changes to a layout

Add, remove and resize borders

Set blocks and fabrics into the layout

Use the quilt tools and speed keys

Print quilts, yardage, foundations and templates


On the Block Worktable

Learn the rules of EasyDraw for drawing pieced blocks

Draw new Easy Draw blocks

Create an applique motif

Use the Posie Maker tool

Create a custom library of blocks

Edit blocks from the library or sketchbook


On the Image Worktable
---


EQ8 Designing More Quilts

EQ8 Designing More Quilts

More Quilt Design Tricks from EQ8 Experts

The first EQ8 quilt design book was so popular (view now), we decided to create a second one! This book will teach you to design quilts like the professionals! Follow the step-by-step lessons to create eight extraordinary quilts. You will be drawing blocks based on photos, designing a quilt with digital fabric panels, using a mathematical formula and special layouts to create amazing optical illusions, and so much more! Use the knowledge from the techniques you learn and make each quilt your own. After going through these lessons, you'll feel like a quilt designing genius!

It is not necessary to have the EQ8 Designing Quilts book before purchasing the EQ8 Designing More Quilts book. They are independent of each other and offer unique content and techniques.

This 136 page fully illustrated book has a convenient spiral binding that
allows pages to rotate 360 degrees and lie flat.
Written for EQ8 Windows and Mac users.
More Quilt Design Tricks from EQ8 Experts

This book includes chapters on a wide variety of quilt designs, each teaching you many different features within the EQ8 software. Whether you like the quilt or not, working through each chapter will help you increase your knowledge and understanding of EQ8 so you can design your own masterpieces!

Chapter 1 - Nancy Mahoney

Medallion QUILTS!
Learn border tricks used to
design striking medallion quilts.

Chapter 2 - Reeze Hanson

Applique QUILTS!
Trace a picture of a tile to create an applique block. Designing this quilt is a lot easier than it looks!

Chapter 3 - Lori Miller

Modern QUILTS!
Use alternate gridwork to create eye catching modern quilts.

Chapter 4 - Barb Vlack

Optical Illusion QUILTS!
Can you believe that a mathematical formula inspired this quilt?

Chapter 5 - Kristina Brinkerhoff

Orphan Block QUILTS!
Design a quilt layout perfect for your leftover blocks.

Chapter 6 -Yvonne Menear

Baby Block QUILTS!
You'll be amazed how simple blocks and layouts can create these stunning quilts!

About this Book

This book was written by the following contributing authors: Nancy Mahoney, Reeze Hanson, Lori Miller, Barb Vlack, Kristina Brinkerhoff, Yvonne Menear, Kari Schell, and Amy Ellis

Chapter 7 - Kari Schell

Panel QUILTS!
Learn the tricks for using fabric images in EQ8 to design your next panel quilt!

Chapter 8 - Amy Ellis

Landscape QUILTS!
This landscape quilt is based on a mountain range photograph. You too could design what you see. Be inspired!

.
Pages: 136
Size: 8½" x 11"
Soft cover, spiral binding,
full colour content
PRICE:
£24.95 inc. UK Postage
£28.35 Inc. European Postage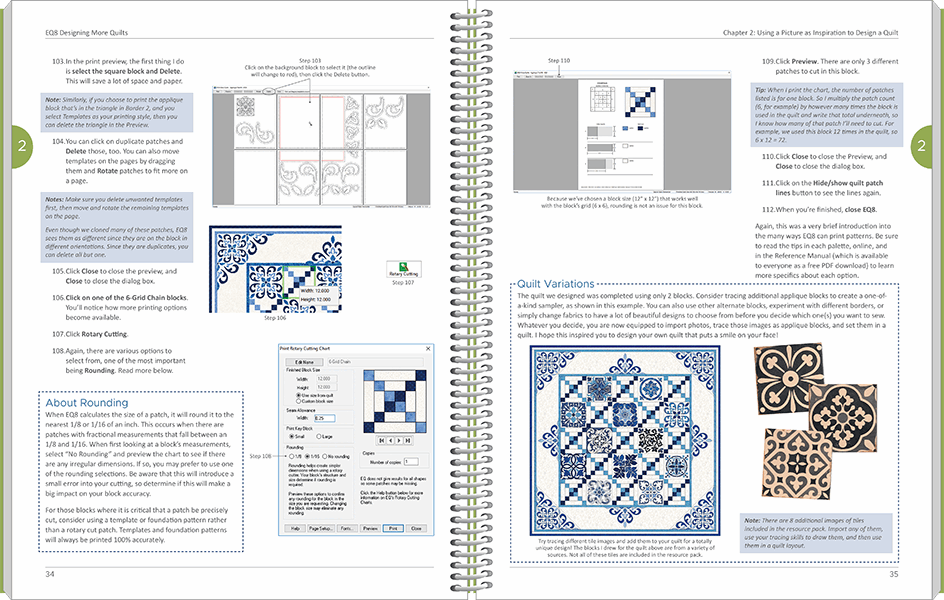 ---

EQ8 Drawing Blocks

Exercises in EQ8 Block Design by Kari Schell

If you want to draw your own blocks in EQ8, this is the book for you! Experienced EQ educator, Kari Schell, takes you step-by-step through each of the drawing styles available in EQ8. You'll learn skills for both pieced and applique drawing while filling your Sketchbook with beautiful blocks! From drawing a simple nine patch to creating a beautiful floral applique wreath, this book will take your drawing skills to the next level!

This 160-page fully illustrated book has a convenient spiral binding that allows pages to rotate 360 degrees and lie flat. Written for EQ8 Windows and Mac users.

Learn the Fundamentals of Block Drawing
Each chapter focuses on one of the EQ8 drawing styles.
Learn how to draw the blocks below, plus many more!

Chapter 1 Drawing Pieced Blocks in EasyDraw
Learn how to set up the Precision Bar for drawing success,
determine the best size to draw a block by examining the block's grid,
trace a photograph to create a foundation-friendly block, and more!

Chapter 2 Drawing Pieced Blocks in PolyDraw
Learn the difference between the EasyDraw and PolyDraw drawing styles,
use the Clone and Rotate method for faster drawing,
draw a block on each of the special grids, and more!

Chapter 3 Drawing Applique Designs
Learn to use the Draw and Shapes tools to create unique applique patches,
use WreathMaker to make beautiful designs, modify a block from the library to make it your own,
trace an antique quilt block, and more!

About this Book
Pages: 160
Size 8½"x 11"
Softcover, spiral binding, full-color content
PRICE:
£24.95 inc. UK Postage
£28.35 Inc. European Postage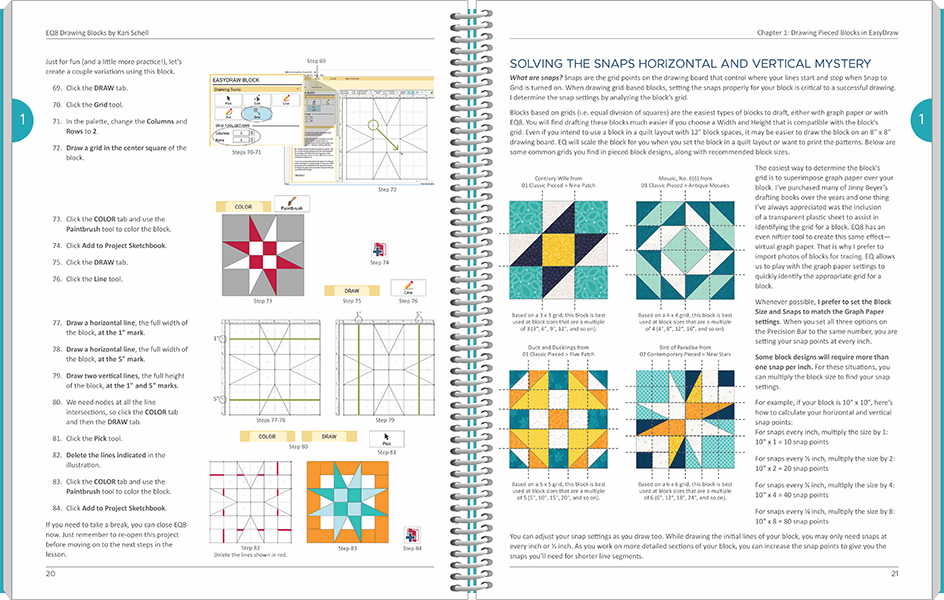 Which book should I buy?
The EQ8 Lessons for Beginners is the best book for going step-by-step through lessons to learn the ins and outs of the program. The first chapter covers all 3 worktables, and Chapters 2 and 3 get more into different features of the quilt designing and block drawing. Chapter 4 is full of some fun, popular topics in EQ.
The book is only 128 pages, so it's easy to go through, and a great way to get started.
The EQ8 Designing Quilts Book - Hints and Tips from EQ8 Experts - Back in print and available
The EQ8 Designing More Quilts book is similar in style to the first quilt design book (above), but with new content and techniques. It is not necessary to purchase both books, however you will learn even more if you do! Check out each book's product page to see what each offers. Remember! This book isn't just about the finished quilt, but the techniques you learn so you can apply them to your own designs. It is recommended that you work through the blue EQ8 Lessons for Beginners book before moving onto this book
The EQ8 Drawing Blocks book is for those interested in drawing blocks. You'll learn how to draw both pieced and applique blocks in this step-by-step lesson book by popular EQ educator, Kari Schell. Working through this book will give you the skills you need to draw your own unique block designs.



Back in Print and in stock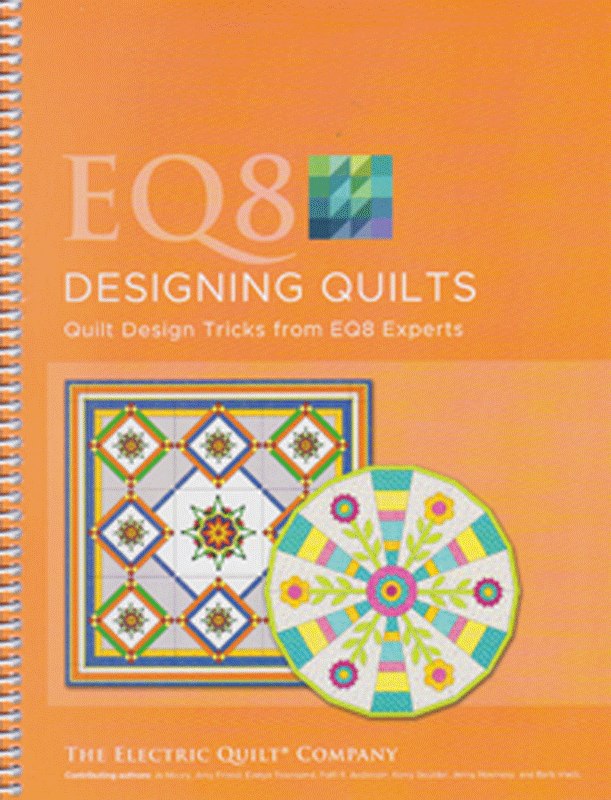 Price - £24.95 Inc postage





















---

Updated on June 22nd 2022 by The Man From Rio

© 2022 -- Rio Designs & Electric Quilt Company
who also kindly agreed to the use of their graphics etc.

---